Keith Gates: Music
Larry Lang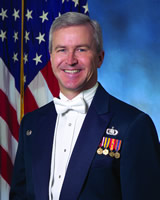 Lieutenant Colonel Larry H. Lang, Commander and Conductor of The United States Air Force Academy Band entered the United States Air Force in January of 1990. He received his Air Force commission through Officer Training School in San Antonio, Texas, and in May of 1990 was assigned as Deputy Commander of the Air Force Band of Flight, Wright-Patterson Air Force Base, Ohio. His remarkable success there led to his early command appointment in April 1993 as the flagship Commander of the Air Force Band of the Pacific, headquartered in Anchorage, Alaska, with detachment components in Japan and Hawaii. Under his command, the PACAF Band was chosen by the Air Force Chief of Staff to deploy to Incirlik Air Base, Turkey and Aviano Air Base, Italy in support of American and NATO troops; and to Bucharest, Romania for an international Partnership for Peace exchange. In October of 1995, he was handpicked by the Commander of Air Combat Command to lead the USAF Heritage of America Band at Langley Air Force Base, Virginia. Under his leadership, the Heritage of America Band maintained a worldwide reputation for military and musical excellence, earning an unprecedented five Air Force Organizational Excellence Awards. From July 2004 to June 2005, Colonel Lang attended Air Command and Staff College at Maxwell Air Force Base, AL, where he earned a Master of Military Operational Arts and Science degree, followed by an assignment in July of 2005 as Commander of the Air Force Band of Liberty at Hanscom Air Force Base, Massachusetts.
A native of El Paso, Texas, Colonel Lang began his career in music as a trombonist, attending New Mexico State University in Las Cruces, where he earned his Bachelor of Music Education and Bachelor of Performance degrees in 1980. He went on to complete a Master of Science degree in Music Education at the University of New Hampshire in Durham, where his extraordinary work as student Director of the Marching Band and Jazz Ensemble II led to a faculty appointment in 1982. In 1983, Colonel Lang accepted the position of Assistant Director of Bands at McNeese State University in Lake Charles, Louisiana where he directed the Symphonic Band, the 200-member "Cowboy" Marching Band, Jazz Ensemble II, and the McNeese Summer Music and Fine Arts Program.
In 2005, Colonel Lang was elected as a member of the prestigious American Bandmasters Association. He is also a member of the National Band Association and the College Band Directors National Association, and is active as a guest conductor and clinician throughout the United States. Colonel Lang was selected by the Air Force Academy Superintendent as the Commander and Conductor of the Academy Band and assumed command in August of 2007.