Keith Gates: Music
Rosemary Castillo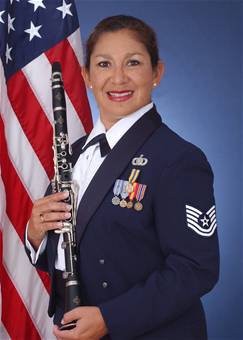 Technical Sergeant Rosemary Castillo-Sartin clarinetist with the United States Air Force Band of the West, where she has performed with the Dimensions in Blue Jazz Band, Mission Winds clarinet quartet and Concert Band. She was born in San Benito, Texas on 24 January 1963. She graduated from Harlingen High School in 1981 and went on to earn a Bachelor's degree in Music Education from McNeese State University in 1987.
TSgt Castillo-Sartin joined the USAF in 1992. Her assignments include: the USAF Band of the West from 1992 to 2004, the USAF in Europe Band from 2004 to 2007 and back to the Band of the West in January 2007.
TSgt Castillo-Sartin has been awarded the USAF Achievement Medal with one oak leaf cluster, the USAF Commendation Medal with one oak leaf cluster, the National Defense Medal and the Global War on Terrorism Service Medal.
TSgt Castillo-Sartin is married to Phil Sartin and they have one son, John. She enjoys running, sewing, crocket and cooking. She is also and avid boater and wake boarder.