Keith Gates: Music
Evangeline
Susan Kelso, director
Royce Tevis, conductor
Evangeline from beginning to end of "How could a river change its course?"
(modem) (broadband) Evangeline from beginning to end of How could a river change its course?
The legend of the Loup-Garou
How could a river change its course?
The Bay Glistens Like a Crystal
Karen Schowalter Cooper as Evangeline and Scot Smith as Gabriel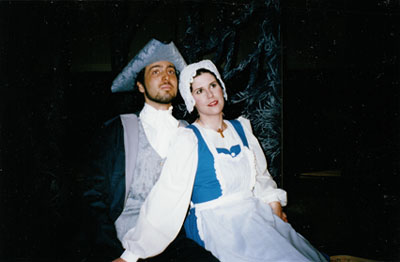 Ross Allured, Blake Whitley, and Ron Brumley in "Sweet Ale!"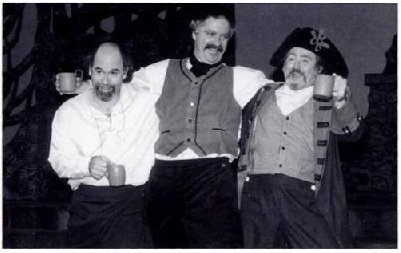 Evangeline
An Opera In Two Acts

Music by Keith Gates
Libretto by Jon Robertson

Synopsis of Evangeline

Prologue
Storytellers, descendants of Acadians, gather to tell the story of the Acadian exile of Evangeline with the famous, 'This is the Forest primeval…"

Act I
Scene 1: Grand Pre', Acadia (Nova Scotia) around 1755, October, the eve of Evangeline's wedding. In her father's orchard, Evangeline happily looks forward to her wedding day. She is met by LeBlanc and the school children, who ask him for one of his famous stories of the wolf Loup-Garou. When the children leave, Evangeline confirms her faith in Gabriel with "He will never change his mind." Benedict, her father, calls her. Nostalgically, he notes that this is their last night together. Basil, the blacksmith, and his son, Gabriel, arrive. They speak of the political unrest with the British, and then the lovers go outside to enjoy the beautiful evening with "So give me your hand.". The fathers and LeBlanc enjoy "Sweet Ale," and marvel at how time passes, "Tomorrow they wed."

Scene 2: Noon the next day on the village green. The villagers gather for the wedding. Annette and Jacques, best friends of the couple, playfully give instructions about the woes of married life. Felician, the priest, begins the ceremony, and everyone describes the home the community built for the two lovers, "Do you see there, on the hill?" The British interrupt the ceremony, ordering the deportation of everyone by nighfall. The people let by Benedict, Gabriel and Basil defy them, "We will not yield.": Felician reminds them all of their Christian duty, "Father forgive them." As Gabriel and Basil are taken away, Evangeline leads the people in "Ave Maria." Then the villagers despondently go to gather their belongings to leave.

Scene 3. That night on the shore of the Bay of Fundy. Villages assemble with their possessions and pray for justice. The prisoners enter in chains. Evangeline and Gabriel briefly are reunited. He pleads, "Wait for me," and she promises. Benedict proclaims that "The meadow belongs to me," and refuses to leave behind the land of his fathers. As the village burns, he collapses and dies.


Act II

Prelude and the oarsmen's song that tells of the loss of exile. The spirits of the cypress swamp introduce the audience to the Bayou Teche area where Evangeline and her friends are lost after three years of wandering.

Scene 1. Evening, near a large oak. Pierre courts Evangeline, asking her to "please look at me." She refuses him and then entreaties from Jacques, Annette and Felician to cease her fruitless search for Gabriel. She senses that he is near, and, struggling to maintain her sanity, collapses beneath the oak. While unconscious, she has visions of a native spirit who tells the tale of lost love; and of Felician, who warns her that her faith is misplaced. Gabriel, who is leaving the nearby village, walks by, and as he thinks of her, again asks that she "Be faithful and true."

Scene 2. Early morning and the Cajun villagers stop work to dance as Basil plays his guitar. Awaking, Evangeline is reunited with him and asks for Gabriel. He evades her question. Felician decides he will enjoy this Louisiana, and all of the villagers arrive and joyfully greet Evangeline. When she hears that Gabriel has just departed, saying he will never return, Evangeline slips away from the celebration and leaves to find him. Storytellers describe the travels of Evangeline as she searched for her Gabriel.
Scene 3. Evening, forty years later, at an almshouse filled with yellow fever victims. Evangeline is nursing the sick and praying for them when she discovers Gabriel. He also recognizes her and they sing, as they did on the eve of their wedding, "Give me you hand and I'll give you my heart." He dies in her arms.

Epilogue

Storytellers conclude their tale of the Acadian exile: the "ocean… in accents disconsolate, answers the wail of the forest."

The opera is based upon Henry Wadsworth Longfellow's poem. Historically, the characters were Marie Cormier, born in Beaubassin, Acadie and died in Opelousas, November 2, 1800, and Pierre Arceneaux, born in Beaubassin and died in Carencro, 1789.



Directed by Susan Kelso

Adley Cormier, Costume Design
John Abegglen, Set and Lighting Design
Sarah Quinn Jones, Choreography

Susan Kelso, Producer

Dedicated to the Acadians who have enriched the culture and arts of Louisiana

All Rights Reserved

Copyright @ 1996 by Keith Gates and Jon Robertson

Evangeline is supported by a grant from the Louisiana State Arts Council, the Louisiana Division of the Arts, and the Louisiana Decentralized Arts Funding Program as administered by the Arts and Humanities Council of Southwest Louisiana; the Conover Endowment; and the McNeese Treatre Student Assessment.


Cast of Evangeline
(in order of appearance)
Evangeline, engaged to Gabriel Karen Schowalter
Rene LeBlanc, notary/storyteller Ron Brumley
Benedict, Evangeline's father Blake Whitely
Basil, his friend Ross Allured
Gabriel, Basil's son Scot Smith
Annette, Evangeline's friend Joetta McKee
Jacques, her husband Creighton Wallis
Michael, the fiddler Chris Miller
Pere Felician, Acadian priest Thomas Brooks
British Commander Steve Monta
Pierre Lebeque, Evangeline's suitor Mike Sober
Attakpas Spirit, indigenous resident Michele Martin
Sister of Charity Amanda Taylor
British Dragoon Shawn Morris
Highland Mercenary Carlos Perez
British Dragoons William Hughes
Arthur Hebert
Basil's friend Keith Marino

Acadians:
Kathy Anderson
Michael Babin
Sharon Bailey
Danielle Carter
Aaron Farris
Shawntel Griffin
Deith Marino
Candace Newcomer
Jeanette Read
Amanda Taylor
Brian Watson
Kim Ballard
Justin Andrews
Dawn Burnett
Troy Dyer
Lee Fine
Dana Middlebrooks
Tiffany Phillips
Yuavanka Young
Ryan Bunch
Rochelle Folks
Edan Laging
Elisabeth Pruitt
Eleson Rogers
Patron Washington
A. David Ragona
Tima Wing
Linda Monta

Acadian Children:
Heather Foster
Morgan Andry
Esther McCrary
Rosalie Hays
Matthew Hart
Jacqueline Davis
Sarah Moore
Sarah Hayes
Jennifer Foster
Mikey Hart
Jennifer Cutler
Sarah Rollins
Greg Young
Jessica White

Dance Theater Southwest:
Joseph Frazier
Elizabeth Gates
Jemmifer Kelly
Polly Anderson
Melissa Herrington

Orchestra:
Jean English, Viola
Robert Jordahl, Celesta
Eileen Johnson, Cello
Lane Miller, Cello
Andrew Johnson, Viola
Jim McLeland, Violin
Laurel McLeland, Oboe
Susan Lauderdale, Bassoon
Rod Lauderdale, Horn
Chris Tew, viola
Bill Rose, Trombone
Jan Scott, Clarinet
David Scott, Trumpet
Terry Mahady, Percussion
Mary Van Speybroeck, Violin
Jerry Zamost, Violin
Judy Ward, Flute
Karen Cleer, Violin
Kyle Myers, Viola
Michael Rybiski, Bass
Keith Gates, Piano
Jennifer Aymond, Mr. Gates' Assistant

Production Staff

Director and Producer Susan Kelso
Composer and Music DirectorKeith Gates
Libretto Jon Roberson
Conductor Royce Tevis
Costume Design Adley Cormier
Set and Lighting Design John Abegglen
Choreography Sarah Quinn Jones
Stage Manage John Abegglen
Heritage Chorale Director Michael Farrell
Children's Music Director Cindy Moore
Costume Technician Gina Nixon
Props Designers John T. Powell
Adley Cormier
Technical Expertise Peter Dart
Richard Nixon
Light Board Shane Breaux
Supertitles Operator Michael Smith
Costume Shop Assistant "SAM"
Stage Hands Sultan Mirza
Dee Christl-Wright
Carlos Perez
Shawn Morris
William Huges
Arthur Hebert
English Translations Dominique Gendrin
Women's Bonnets Dee Christl-Wright
Children's Costumes Lisay Andry
Hair Styles Lisa Seep
Lisa Andry

McNeese Theater Promotion
& Public Relations Anita Tritico
Program Ad Sales Carol Miller


Evangeline Oaks
McNeese Theatre gratefully acknowledges the special supporters of this production, the Evangeling Oaks.

Tom Shearman
I & Corene Davidson
Arthur Dearden
Mr. & Mrs. James Dimmick
Mr. & Mrs. David Hays
Lynn Hedlesky
Mr. & Mrs. William Dushner
Rodney Marioneaux
Richard & Susan Marriner
Southwest Beverage Co. Inc.
Mr. & Mrs. Frank Pruitt
Mr. & Mrs. John B. Scofiel
Mr. & Mrs. Jimmy Soileau
Mr. & Mrs. Truman Stacey
Edie Storer
Mrs. Ada Vincent
Dr. Willam Hart & Dr. Maureen Olivier
Drs. Susan Delso & Peter Dart
Mr. & Mrs. David Reinauer
Anita Tritico
Dr. & Mrs. Clinton Hart

Costume Construction:
Suzanne Coyle, Tama Reppond, Lisa Andry, Sarah Jones, Dee Christl-Wright, Christa Gates, Mary Bourgeois, Lynette Braxton, Tenia Fusilier, Mie Iwatsuke, Tessa Savoy, Susan Kelso, Rochelle Folks, Carol Smith, Carol Ann Gayle

Set, Props, Lighting Assistants:

Richard, Nixon, Pete Dart, Carlos Perez, Sultan Mirza, Riley Belile, Mike Sober, Brandon Bignall, Blake Whitley, Michele Martin, Jason McCann, A. David Ragona, Keith Miller, Scot Smith, Naomi Hatsfelt, Misti Weeks, Linda Milam, Matt Duncan, Justin Andrews, and students in McNeese Theatre 161.